A BALL CHANGES EVERYTHING
Proceeds from the sale of the ball will go to the League and the Global Goals World Cup—women's soccer programs reimagining the way of 'keeping the score'.
In 2023-24 we play in Jordan, Saudi Arabia, Colombia, Palestine and India.
More about the GGWCUP tournaments - more about the League.
— Shopping in Denmark? Visit Tress for local shipping costs —
Thank you for supporting our work.
The Sustainable Development Goals (SDGs) are also known as the United Nations' 17 Global Goals. The Global Goals are a blueprint to achieve a better and more sustainable future for all by 2030.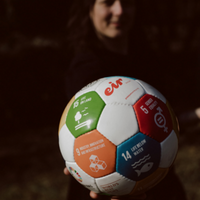 ABOUT THE REVOLUTIONARY BALL
The unique ball is designed by Denmark's EIR, a non-profit organisation.
EIR has tackled the football/soccer safety issues since by 2008 by releasing the first football designed to fit the physicality of female players reducing injuries and maximizing the game experience. 
In 2015 EIR teamed up with UNDP and created the official SDG ball that proudly displays all of the United Nations' 17 Global Goals icons. The Global Goals are also known as the Sustainable Developments Goals (SDGs). 
Other ball designs promote women's right to vote, aid to refugee women in Denmark and Afghanistan.
More about the ball
WOMEN – VOTE – CELEBRATE
The art ball design and donation from U.S. artist Hope Gangloff began as an ink drawing from 1997 of a starry sky. It then evolved into a 10 ft x 7 ft giant painting on linen before it was translated into a limited edition football / soccer ball. The art ball was introduced to coincide with the 2020 American November presidential election. 
"We all have to engage with the government that represents us, otherwise, democracy doesn't work. Checks and Balances include the eyes of the people," Hope Gangloff. 
Hope Gangloff's work is represented by the Susan Inglett Gallery in New York since 2006. Please visit www.hope-gangloff.com. 
We hope you will make this starry ball part of your everyday life.